A gum shield, or mouth guard, is a flexible dental appliance that is worn during recreational and sporting activities in effort to protect the teeth from any trauma that they may otherwise sustain.
Night guards are another type of protective mouth guard that can help with teeth grinding. These guards are slipped over the teeth right before sleep and worn through the night. Teeth grinding can lead to excessive wear on teeth and can also lead to damage and decay.
What are the options for mouth guards?
There are typically two options for gum shields. The first is a mouth-formed gum shield that will be formed by making an impression of the teeth. The impression material molds to the teeth and sets. This guard can now offer a degree of protection for those who are engaging in those highly active recreational activities. While these mouth guard kits are often available for home use, many complain that this type of gum shield doesn't offer the right fit.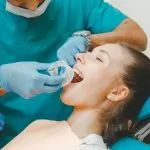 Visit with your dentist and discuss your desire to protect your teeth and mouth from damage that may otherwise be sustained during those athletic activities that you love so much.
While some may benefit from a mouth-formed gum shield, there is no better way to get a comfortable proper fit that allowing your dentist to custom-fit a mouth guard for you. This is particularly true if you have fitted metal or ceramic braces. Even a small injury to the mouth can lead to lacerations on the insides of the cheeks and lips, and can do serious damage to the braces themselves.
Whether you're looking for protection during physical activity or looking for a night mouth guard to help protect against teeth grinding, you'll find that your dentist has the right solution to meet your needs.
What is the cost for a gum shield?
At Crown Dental we have years of great experience working with patients who can benefit from gum shields. We offer competitive prices at our clinic, along with the wide range of dental treatments that Dublin dental patients are in need of. See our prices below or call the clinic to learn more about what we can offer you.
Night Guard / Gum Shield
€140-200
WE OFFER A WIDE RANGE OF TREATMENTS
Alternative Treatments at Crown Dental
All of our treatments and services are provided in a comfortable, spa-like clinic, designed according to high-quality standards in our clinic in Dublin 6.
Are you ready to learn more about how gum shields can benefit you?
Book an appointment online or call our clinic at (01) 490 4656.