What are dental implants?
Dental implants are permanent tooth replacement solutions. The implant itself is typically titanium based. This is due to the inability of titanium to corrode, even after years of use.
The implant will be surgically inserted into the jaw and it will act as a replacement root for a prosthetic tooth, or crown. Implants are considered to be stable. They are the ideal solution for patients who do not want to cause damage to the structural integrity of healthy teeth surrounding the empty space on the gum. This is often seen when fixed bridges are used to replace several missing teeth. Implant supported dentures rely on implants to provide a sturdy base for the prosthetic teeth.
Once the implant, or artificial root, has been implanted, the bone in your jaw will begin the process of fusing to the titanium. The healing phase typically lasts several months. During this time your bone will be continually fusing to the artificial root.
Once the bone has successfully fused to the implant, it'll be ready to have a permanent crown. Once the crown is in place the new tooth will look wholly natural.
What is the procedure for getting dental implants?
Your dentist will perform a thorough examination and take x-rays and a CT scan. This will help to determine the correct positioning for the artificial root. Patients will not feel any pain or discomfort during the dental implant procedure. A local numbing agent will be applied so that the patient can rest in comfort for the duration of the procedure.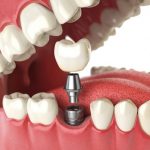 There are no true disadvantages to getting dental implants, however as with most surgical treatments there are some potential risks and complications that your surgeon will explain to you. Implants offer a number of benefits for patients who have lost their natural teeth. A tooth implant looks and feels just like a natural tooth. Replacing missing teeth can ensure that there is no loss of bone, or facial drooping as a result of the bone loss.
What is the cost of Dental Implants?
At Crown Dental we understand that sometimes our patients put off getting much-needed dental treatments because they fear the costs. We offer a wide range of dental solutions with a competitive pricing plan that will meet the needs of our patients. To learn more about the price of dental implants please see our pricing listed below or call the clinic to speak to a knowledgeable professional.
Implant consultation + OPG
€90
Implant consultation + OPG (Orthopantomogram)
Routine Tooth extraction
from €110
Wisdom Tooth/ Surgical Tooth Extraction
€250 - €500
Bone augmentation
from €300
grafting with artificial bone material
Stitch removal after surgery
€40
* Some treatments are eligible for 20% tax reduction.
Implant +basic metal abutment +cement retained pfm crown
€2350
Implant +screw retained pfm crown
€2500
In case of Biomet 3i implant
* Please note that implant cases vary greatly from patient to patient and need a complete examination and CT scan to cost accurately.
WE OFFER A WIDE RANGE OF TREATMENTS
Alternative Treatments at Crown Dental
All of our treatments and services are provided in a comfortable, spa-like clinic, designed according to high-quality standards in our clinic in Dublin 6.
Ready to get started with Dental Implants?
Are you looking to restore your smile with dental implants? Implants are a permanent and natural-looking solution to missing teeth. To get started book your appointment online or call our clinic at (01) 490 4656.