Fixed braces are often referred to as 'train track' braces. The orthodontist attaches metal or tooth-coloured brackets to the teeth that are being realigned. The next step is to run a special wire over the brackets to pull the teeth into the right position.
Because the brackets are adhered to the teeth, patients won't be able to take the braces off during the course of treatment.
Ceramic braces are the same size and shape as metal braces. They have tooth-coloured or clear brackets that blend in with the natural colour of the teeth. The primary difference between ceramic and traditional braces relates to the type of orthodontic brackets that are bonded to the patient's teeth. With ceramic braces, the brackets are clear or tooth-coloured, not metal.
With both methods, there's still a metal wire that runs across the patient's teeth and is held in place using elastic bands.
This difference in the colour of the brackets really does help to make it less obvious to others that a person is wearing braces, especially from a distance.
What are some other teeth straightening solutions?
Traditional fixed braces remain the most popular in orthodontic solutions. There are several other options available to patients looking to get that beautiful straight smile.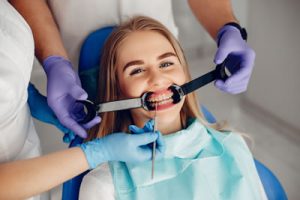 Prior to being fitted with your braces your dentist will need to ensure that your teeth are in good healthy shape. This could mean taking care of any fillings that are needed, performing root canal therapy or extracting teeth that have otherwise been contributing to overcrowding in the mouth. Once this has been taken care of, you'll be ready for the braces to be affixed to your teeth. The entire procedure should take just one visit and you'll be able to resume your day. Those who have new metal or ceramic braces are encouraged to alter their diet temporarily. There should be no pain during the procedure and there should be no pain once the braces are in place. There may however be a little bit of sensitivity and tenderness as patients adjust to the sensation of the new braces. Adjusting a diet to include softer foods can also help to ensure that the tenderness is minimised.
How much do fixed braces cost?
At Crown Dental we have many years of solid experience helping our patients get those beautiful straight smiles. We offer a wide range of dental treatments, with very competitive pricing plans at our clinic. If you are looking for fixed braces, you've come to the right place. Take a look at our prices listed below or call our clinic to book your appointment.
Initial Consultation
FREE
Orthodontic Analysis and Treatment Plan
€95
Including examination, impression panoramic and cephalometric x-ray
Fixed Braces for Children
from €3500
Fixed Braces for Adults
from €4000
Six Month Smiles
€2150 / €3000
cosmetic braces- single arch/both arches
Invisalign Full
from €4500
WE OFFER A WIDE RANGE OF TREATMENTS
Alternative Treatments at Crown Dental
All of our treatments and services are provided in a comfortable, spa-like clinic, designed according to high-quality standards in our clinic in Dublin 6.
Are you ready to get a beautiful straight smile?
Is your child or teenager a good candidate for fixed braces? Book an appointment online or call our clinic at (01) 490 4656.